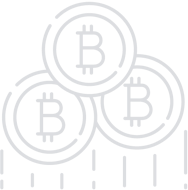 Alendoo - Crypto-Based Loans
Alendoo's main mission is to keep their customers anonymity, to do so they've had to 'think outside the box' to fulfil its existing promises to customers and find a way to extend their offering by adding loans paid out in FIATs. An innovative solution has been selected for this issue. Alendoo decided to design an NFC mobile application that will be loaded with cryptocurrencies and without the need to register a debit or credit card. The design of an NFC application and creating the right infrastructure for the entire process will require large funding. Alendoo cannot handle this project independently, which is why this investment opportunity is now available. The company has made plans to launch an Initial Coin Offering for their token - the Alendoo coin (XAL). XAL will serve essential complex purposes due to its properties as utility coin.
Basics
| | |
| --- | --- |
| Platform | Ethereum |
| Type | ERC20 |
| Accepting | ETH |
| Circulating Supply | 85% |
| KYC | N/A |
| Restricted Areas | N/A |
| Homepage | Website URL |
| White Paper | View/Download |
Bonus
Presale - 30%
Round 1 - 20%
Round 2 - 10%
About
Alendoo stands for A- Anonymous and LEND- Lending, as some readers may have already guessed.
Alendoo is an advanced cryptocurrency platform that offers crypto backed Loans and Lending for which crypto is used as interest. One of the most important values in Alendoo is anonymity.
The government authorities tend to discourage anonymity regarding crypto because they cannot gain access to information about citizen's assets. Governments compel financial companies to implement Anti-Money Laundering and Know Your Customer policies. The official reasons given for enforcing these policies is the prevention of terrorism funding or money laundering. However, the hidden agenda may be to control individual finances. Bitcoin transactions should be anonymous, but currently, exchanging Bitcoin to USD or another national currency will require proof of your identity, address, and other personal information. This process eliminates anonymity as Bitcoin can be tracked and linked with exchanges that have your personal information.
At Alendoo, we are committed to protecting our customer's funds from the public; therefore our processes only require an active email address to get started. We do not make details such as company registration public to avoid a ban in the country we are located. Our team takes the necessary measures to protect our customers and promote anonymity. At Alendoo, our motto is, "Your anonymity is our priority."
Team