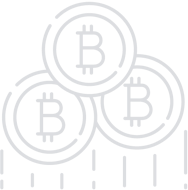 Bibox - AI enhanced encrypted digital asset exchange
Bibox is an AI enhanced-encrypted digital asset exchange platform. The founding team is formed by top tier Chinese blockchain & Crypto giants. The team includes co-founder of OKCoin and other core founding members from HuoBi.com, which are two largest Bitcoin exchange platforms in China even across the world. Besides the core tech team and operation team, Bibox also attracts bitcoin enthusiasts, adopters of blockchain, established series entrepreneurs, professional securities traders, Venture Capitalists, high-tech Angel Investors, and top A.I experts in the industry to participate in the platform.
Basics
| | |
| --- | --- |
| Platform | Ethereum |
| Type | ERC20 |
| Accepting | ETH |
| Circulating Supply | N/A |
| KYC | N/A |
| Restricted Areas | N/A |
| Homepage | Website URL |
| White Paper | View/Download |
Bonus
About
Bibox is an intelligent transaction platform for blockchain asset, jointly established by a group of senior experts who are enthusiastic about blockchain and have a thorough knowledge in the areas of blockchain, finance and AI, etc. The platform was created to spread the word about digital asset and enable digital assets to facilitate our lives. We also hope that with our continuous efforts and accumulation of knowledge, we will work with our customers to build Bibox into a "world leading and transparent intelligent transaction platform for digital assets" by way of advanced AI technology and perfect user experience. We also want to make Bibox the best place for staff career development.
Security
Safe use of microservices splitting design
Professionalism
A high level team composed of experts in blockchain, finance and AI
Efficiency
A memory matching system of megabits per second
Stability
State-of-the-art distributed cluster architecture adopted by the platform
Strong Compatibility
Extra strong fault-tolerant capacity
High Capacity
Admissible user throughput up to ten million
Product Advantages
Unified market entry/exit criteria
We will screen the digital assets with AI technology of our own research and development, keeping the quality ones circulating on the secondary market and removing the bad ones that aim to cash out, so as to provide the investors with an open, transparent, neutral and fair trading platform..
Multi-currency transaction
The platform offers transactions in quality tokens derivative from Ethereum ERC20, OmiLayer and EOS as well as the original ones certified with professional valuation. At the early stage the tokens will be BTC-denominated and other legal tenders such as CNY, HKD, EUR and JPY will also be used in the future.
Leveraged/Contract transaction
We will gradually open spot transaction and other financial services, allow the investors to short sell, in order to meet the investors' needs of avoiding risks and prevent large swings in the value of the tokens.
API
Attracting institutional investors to participate in the transactions on our platform, which helps to enhance the mobility of the platform and reduce drastic fluctuation in the price. API interfaces include RESTful, Websocket and Fix.
Extensive and professional strategic transactions
In combination with AI technology, we develop intelligent transaction assistants, provide strategic transaction tools and enable tape reading without human involvement around the clock. We support ordering with function command given by intelligent speech recognition.
Decentralized transactions
In accordance with the transaction scale on the platform, we will gradually open other new types of transaction to meet the needs of different users. The new transaction types include but are not limited to decentralized transaction based on blockchain technology.
Team
View All