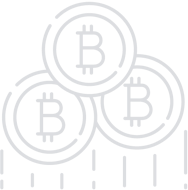 Ampleforth - Digital-Asset-Protocol For Smart Commodity Money
The smart commodity money with a unique elastic supply protocol. AMPL supply expands and contracts in response to it's price deviating from a 1 USD target. Deviations result in a supply change of AMPLs once every 24 hours, increasing or decreasing the number of tokens in each holder's wallet pro-rata. Ampleforth is the only asset in the world with this elastic supply property, and therefore has counter-cyclical trading pressure and is uncorrelated with other digital assets such as Bitcoin.
Basics
| | |
| --- | --- |
| Platform | Ethereum |
| Type | ERC20 |
| Accepting | BTC |
| Circulating Supply | 10% |
| KYC | N/A |
| Restricted Areas | N/A |
| Homepage | Website URL |
| White Paper | View/Download |
About
The Ampleforth protocol receives exchange rate information from trusted oracles and propagates that to holders of its units (Amples) by proportionally increasing or decreasing the number of tokens each individual holds.
For traders, these changes in exchange-rate and quantity translate into changes in Ample's market capitalization. Traders with short time horizons, especially those using automated or algorithmic approaches, will thus have to devise new strategies to trade Amples.
Ultimately, unique trader behavior in response to the protocol's incentives is expected to produce a step-function-like movement pattern with lower correlation to Bitcoin than existing digital assets. This makes Amples uniquely suited for the following near, medium, and long term uses.
NEAR-TERM USE For diversification in cryptocurrency portfolios

MEDIUM-TERM USE As reserve collateral in decentralized banks such as Maker DAO

LONG-TERM USE An alternative to central-bank money, like bitcoin but macroeconomically friendly
Team
View All
Evan Kuo
Engineer / Product
Brandon Iles
Engineer / Architecture
Ahmed Naguib Aly
Engineer / Backend
Aditya Sarawgi
Engineer / Backend
Nithin Krishna
Engineer / Backend
Jessica Yen
Branding / Operations