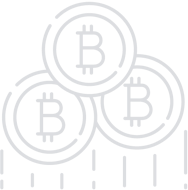 Crypton - New Dimension of FinTech Investment
For projects with tokenization features, we will provide additional financial acceleration by launching separate ICOs. Crypton token holders will receive 30% of digital assets (tokens) from the pool of each subsequent ICO which will be launched by Crypton fund. We help monetize interesting projects based on our strong investment and business experience. We want to provide full support for investors on still uncertain and unregulated market of Blockchain- based projects.
Basics
| | |
| --- | --- |
| Platform | Ethereum |
| Type | ERC20 |
| Accepting | BTC, ETH |
| Circulating Supply | 70% |
| KYC | N/A |
| Restricted Areas | N/A |
| Homepage | Website URL |
| White Paper | View/Download |
Bonus
About
The projects based on Blockchain offer many opportunities to investors, but most of these projects fail, do not reach the announced results and have many imperfections like: defraudation, overfinanced projects, lack of transparency. Investors joining these projects do not receive any guarantees. All these inconveniences cut off a large group of investors who would like to potentially invest in a chosen projects. Crypton VC can solve these problems and offer compelling advantages such as transparency in DAO model, investment experience and sustainable management.
Expertise
We involve the best professionals from financial and IT sectors who become a part of the Crypton team and help to avoid all the pitfalls.
Diversification
Because of preliminary work on selection the fund's portfolio, Crypton token holders invest not inseparate project, but in profitable and stable portfolio with great synergy between projects,minimizing the risks of losing funds with independent investments.
Experience
Crypton experts have experience in managing venture capital fund and investments projects. For over 15 years, we have invested more than $150M in FinTech / Blockchain / MedTech / Internet / IT projects.
Low Entry Barriers
In a classic venture capital fund, you need in many situations to have at least $100K. In the Crypton fund, the minimum investment is only $1.
Transparency and Control
Projects from the Crypton's portfolio will be forwarded to the vote on among CRYPTON tokenholders - we decide together which projects we will invest in, we will use DAO model.
Team
View All