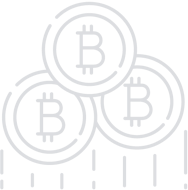 DECOIN is a Blockchain-Based Exchange & Trading Platform with Redistributed Revenues to Coin holders. A fully Secure Technology System for cryptocurrency users to exploit their full potential aligning with the Decentralized nature of the Block-Chain itself. DECOIN aims to build a world-renowned customer care centers worldwide to facilitate the adoption of cryptocurrency and blockchain technologies.
Basics
| | |
| --- | --- |
| Platform | DECOIN Blockchain |
| Type | Coin |
| Accepting | ETH, BTC, Fiat |
| Circulating Supply | 60% |
| KYC | N/A |
| Restricted Areas | N/A |
| Homepage | Website URL |
| White Paper | View/Download |
Bonus
About
Accessibility
We are developing highly scalable, secure and commercial grade blockchain architecture
Trading profit and Revenue-Sharing Exchange
Whether the market is up or down - YOU as a DECOIN holder gain from the transaction fees and the daily volume accumulated on the exchange. DECOIN shares its revenues with its Coin holders. The trading revenues include: spreads, commissions, aggregation, risk positions and margin interest
Full Support
Accessing customized information through our Online Customer Service, with detailed and precise information to get you started within the crypto space
Investment With Unprecedented Returns
DECOIN's POS algorithm ensures an average of 6.2% annual interest return to all coin holders that will stake their coins on DECOIN's online wallet, rewarding their loyalty toward the coin adoption.
Monetization and Liquefaction
The First exchange Platform to allow direct access to our revenues using your own personal D-TEP credit card. Just another way you can save time and simplify the process
Access to D-TEP Crypto Index (DCI)
As a DECOIN partner or user who has swapped your own coins for DECOIN, you become mutually interested and invested in the index - and D-TEP's success. You benefit from revenues created by all DECOIN members, enjoy added revenues from investment-as-a-fund cash-outs and have full control over the division of your investment assets among listed ICOs and companies.
Team
View All