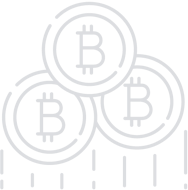 Platinum Q DAO Engineering has developed a family of fully decentralized Stable Coins. There are 2 types of tokens: collateral for Bitcoin which are pegged to national currencies (USDQ coin, second KRWQ coin, and CNYQ and JPYQ will be soon ), and governance Q DAO coin to pay fees. There are also 2 ways of getting USDQ (or any collateral stable coins): -The first way is to buy them on exchanges or getting the credit via a special interface on the site. -And the second way is to deposit at least 166% from the desired sum in bitcoin as collateral (e.x. to get 100 dollars in USDQ the user leaves 166 dollars in Bitcoins) Q DAO coins are available during IEO on exchanges, Q BOX (internal AI feature which generates the coins), and OTC trading platform. Platinum Q DAO Engineering team is conducting 10 rounds of IEO. Thus everyone can get a chance to become an owner of Q DAO governance coins! Transparency and fair game are guaranteed! Each token sale round will take place on the first of every month at 17:00 KST time. The first round has finished at the beginning of this month with over 15000 Q DAO coins sold! That is one of the best results since the last bull run of 2019!
Basics
| | |
| --- | --- |
| Platform | Ethereum |
| Type | ERC20 |
| Accepting | ETH |
| Circulating Supply | 49% |
| KYC | N/A |
| Restricted Areas | N/A |
| Homepage | Website URL |
| White Paper | View/Download |
About
The ecosystem of USDQ stablecoin.
The ecosystem of the stablecoin is constructed on several key elements.
Opportunity to purchase USDQ on exchanges
The 1st element of the ecosystem is the exchanges. USDQ bargains on the secondary market at the price of 1 dollar for 1 USDQ, respectively traders interact with this coin, as well as with any other. To buy USDQ at the exchange is the first way by means of which it is possible to get stablecoin.
What is Q DAO ecosystem
Trade it as a regular stable coin on the secondary market.
Trading in a low-volatility cryptocurrency such as USDQ may help traders to work more efficiently and stay safe no matter what happens on the secondary market.
Collateralize your crypto and get a simple stable trading asset. After the trading, just give it back and return your crypto.
Bitcoin, Ethereum, and other popular cryptocurrencies can't guarantee its minimum value. So, protect it in our ecosystem until you will be sure in their stability. Holders of USDQ will have a trusted coin which will safeguard from market volatility until ready to begin trading again.
How the system works
Trade on exchanges Trade USDQ on the secondary market as any other stable coin.

Get a collateralized debt position Collateralize your crypto and easily get USDQ stable coins. After trading is complete, simply return the USDQ in exchange for your crypto of choice.

Discover the Q BOX Mine Q DAO tokens, raise your own AI based robot, which will help you to make predictions.
The philosophy of USDQ is to create a truly decentralized stable asset.
Decentralized. All decisions are made by the DAO community.
The Q DAO community provides full democracy with NO centralized control. You can change anything you see fit if the community supports your initiative. You have the right to vote. Everything and anything is decided solely by the community for autonomous decentralized decision making.
Collateralized by crypto. No more mythical deposits on private bank accounts.
Transparency in its plain meaning. You can track all the transactions in real time and know for sure that a particular stable is backed by a particular crypto asset.
Self-stabilizing. Always stable. The environment doesn't matter.
According to the nature of decentralized stable coin, it can't fall or take off with big fluctuations. Self-stabilizing algorithms and market itself will always keep the price stable.
The stable coin which earns money for you
Mine Q DAO tokens Using the Q Box, you can easily mine Q DAO tokens

Your own predictor Based on AI, our Q Box analyses tones of parameters, news, and other factors to create a cryptocurrency rate prediction.

Community governance Help the system to be stronger and safer. By using Q DAO tokens, you can participate in the system control
Team
View All